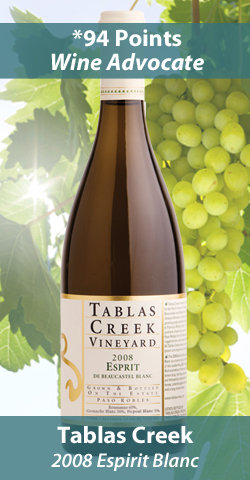 On Friday night we have a special guest joining us. Susan Fobes from Tamber Bey Vineyards will be with us to discuss and sample some of their great wines. Tamber Bey is a family-owned and operated winery that produces wine from its two estate owned vineyards at the heart of the Napa Valley, the Estate Vineyard in the Oakville Appellation and the Deux Chevaux Vineyard in the Yountville Appellation. In 2008, Winemaker Thomas Brown  made history as the youngest winemaker to score not just one, but two perfect "100 point" scores from Robert M. Parker's, The Wine Advocate at Schrader Winery.
On Saturday we will sample sample some French and California Rhone's. The Rhône is generally divided into two sub-regions with distinct vinicultural traditions.  The northern region produces red wines from the Syrah grape, sometimes blended with white wine grapes, and white wines from Marsanne, Roussane and Viognier grapes. The southern region produces an array of red and whites, often blends of several grapes such as in Châteauneuf-du-Pape. American Rhone-style wines are made from the same grapes that have flourished for centuries in France, and to their growing popularity in America speak to their versatility with food, wide range, and skills of American winemakers.
Hope to see you out this weekend.
- Jason Perry
Jonathan's Market La Jolla Wine Tasting:
Friday, August 2nd, 2013 – 4pm – 7pm
Saturday, August 3rd, 2013 – 4pm – 7pm
7611 Fay Avenue
(between Kline St & Pearl St)
La Jolla, CA 92037
Phone: 858.459.2677
View Map
Friday, August 2nd, 2013 – 4pm – 7pm
Friday's Selections: $20.00 per person
Featuring the wines of Tamber Bey: (15% Off During Tasting)

2012 Chardonnay Trio Vineyard (Was $34.99) (Tonight: $28.99)
This wine is Tamber Bey's first release of a 'Oakless' Chardonnay, made from the same Dijon Chardonnay Clone that is in the renowned Deux Chevaux Vineyard Chardonnay. This new wine brings out and incredible bright and fresh sensation of the fruit. It all starts with an explosion of banana, ripe Danjou pear and an undertone of melon. Then the soft entrance evolves on roundness, a sap-like flavor and texture supported by the acidity, with notes of banana again, sweet-gum and touches of salinity.
2012 Sauvignon Blanc (Was $29.99) (Tonight: $24.99)
This 100% Sauvignon Blanc shows a clean expression of the varietal. The nose is all boxwood and gooseberry with a touch of pear and whole nutmeg. In the mouth, the wine is really fresh with a bright acidity. Lime, grapefruit and mineral notes are lingering with a hint of gun powder and a fresh hazelnut finish.
2010 Cabernet Deux Chevaux (Was $44.99) (Tonight: $37.99)
The nose offers a mix of dark stone fruit intermingled with light notes of leather, earth, beef broth, cacao powder and black licorice. Black currant and black cherry sweetness is followed by notes of cola. The finish provides rich flavors of tobacco leaves, crushed stone and bitter chocolate. This elegant, medium-bodied wine is a classic expression of a valley floor Cabernet Sauvignon.
2010 Rabicano (Was $54.99) (Tonight: $45.99)
The 2010 Rabicano introduces itself with vivid, dark ruby color outlined with a pink rim. The floral nose expresses red raspberries and strawberries mixed with incense, sage and a hint of clove. The mouth feel is lush and creamy, thanks to the addition of Merlot that tones down the bold structure of the Cabernet Sauvignon and Petit Verdot. Pomegranate and red currant fruit intermixes with spices and smokiness. The finish delivers notes of graphite and clay.
2007 Cabernet Oakville (Was $134.99) (Tonight: $114.99)
The dark garnet color leads to an enormous nose of pure cassis, black cherries and classic Oakville notes of saddle leather, lead pencil shavings and dried herbs. True to this site, this wine reveals perfectly ripened Cabernet Sauvignon fruit enveloped into a pillowy-like texture on the mid pallet. Here it gains intensity propelling the finish into a rush of exotic black and red fruits slathered with chocolaty nuances and powdery tannins that melt away.
Saturday, August 3rd, 2013 – 4pm – 7pm
Saturday's Selections: $20.00 per person
Featuring wines from French and California Rhone's

2008 Tablas Creek Esprit Blanc ($44.99)
The flagship white is the 2008 Esprit de Beaucastel Blanc, a blend of 65% Roussanne, 30% Grenache blanc, and a rarity of 5% Picpoul. This is really great stuff in 2008. The wine displays plenty of honeyed citrus, spring flowers, white peach, apricot, quince, and loads of wet rocks, giving a steely definition to its opulent, full-bodied, yet fresh flavors. This is a tour de force in dry white and Rhone Ranger blends." Robert Parker – Wine Advocate – 94 Points!
2009 Clos Du Papes CDP Blanc ($99.99)
Creme brulee notes intermixed with honeysuckle, peach and apricot marmalade are all present in this gorgeous wine, which possesses good definition but lower acidity and less minerality than the 2010. It is certainly a more flattering and exuberant style, so there is a choice between two completely contrasting vintages of the white wine from Clos des Papes." Antonio Galloni – Wine Advocate – 94 Points!
2009 Andrieux & Fils Cotes du Rhone Villages ($14.99)
This outstanding 2009 vintage gives this wine a beautiful deep ruby color and a well concentrated nose with old vines offering complexity with aromas of raspberry and blackberry. The mouth is rich, round, and very well balanced delivering a long and smooth finish.
2006 Leal Vineyards "Threesome" ($24.99)
Comprised of 66% Syrah, 25% Grenache and 9% Mourvedre, this wine has a gorgeous nose of ripe blackberry fruit, cassis, milk chocolate and baked cherry. Fabulous depth and fresh acidity help create a full-bodied wine that is layered with complexity and flavor.
2008 Tablas Creek Esprit Rouge ($44.99)
The 2008 Esprit de Beaucastel flows with sweet dark cherries, flowers, tobacco and spices. It is a beautiful, classically built wine graced with striking inner perfume, lovely mid-palate juiciness and a round, utterly harmonious finish. Well-integrated, silky tannins linger on the close. This is a fabulous wine from Tablas Creek. My sense is that the wine should be tasted upon release and then again only after a number of years in bottle. In 2008 the blend is 38% Mourvedre, 30% Grenache, 26% Syrah and 6% Counoise. Anticipated maturity: 2018-2028." Antonio Galloni – Wine Advocate – 94 Points!
Hope to see you all out this weekend!