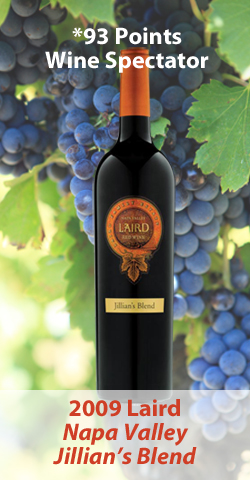 California is a place of amazing geologic and climatic diversity. Almost every kind of climate, land formation, vegetation, and animal life found anywhere else in the United States can be found in California. It is no wonder then that over one hundred different varietals thrive in one of the many micro-climates found there.
Unlike most European winemakers, Californian winemakers have always been free to plant whatever grape varieties they want. Most people are aware that grapes like Cabernet, Merlot, and Pinot Noir dominate production, but there has been a surge of other varietals like Grenache, Malbec, Cabernet Franc, Petit Syrah, and Zinfandel. Syrah, in particular has proven so successful that it is well on its way to becoming one of the states most important grapes. On Friday we will taste four different and interesting California Blends. They are all very well received wines with fantastic press. It will not be a tasting to miss!
Argentina ranks fifth in worldwide wine production. For most of its history, Argentina has produced rough, simple, and cheap wines. Argentina followed Chile's path in producing higher quality wines that appealed to other countries, most notably the United States and Great Britain. Argentina's most interesting wine is Malbec, a red wine that is far more delicious hen made in Argentina than in its native Bordeaux. However, such international varieties as Chardonnay and Cabernet represent the most rapidly growing segment of the Argentinean wine industry and are intended almost exclusively for export.
Come join us on Saturday to taste an outstanding lineup of fine Argentinean wines.
SATURDAY ALL WINES IN THE STORE WILL BE 20% OFF!
Jonathan's Market La Jolla Wine Tasting:
Friday, June 7th, 2013 – 4pm – 7pm
Saturday, June 8th, 2013 – 4pm – 7pm
7611 Fay Avenue
(between Kline St & Pearl St)
La Jolla, CA 92037
Phone: 858.459.2677
View Map
Friday, June 7th, 2013 – 4pm – 7pm
Friday's Selections: $20.00 per person
2010 Chalk Hill Sauvignon Blanc ($24.99)
Chalk Hill's 2010 Sauvignon Blanc is a gorgeous wine loaded with cool-climate varietal character. Lemon, white peaches, tomato leaf and sage are nicely expressed in this vibrant, focused white. Ideally, the 2010 is best enjoyed over the next year or two, while the flavors remain crisp and lively. This is a hugely attractive wine from Chalk Hill. Anticipated maturity: 2013-2016." Antoni Galloni Wine Advocate 90 Points!
2007 Sebastiani Secolo ($34.99)
"Rich and creamy, with up-front tiers of toasty oak, supple plum and blackberry that show touches of mineral and tobacco. Full-bodied, ending with a long, persistent finish. Cabernet Sauvignon, Petit Verdot, Merlot, Malbec, Petite Sirah. Drink now through 2018. 2,220 cases made. – James Laube – Wine Spectator 92 Points!
2010 Epoch Estate Red ($42.99)
"Epoch's 2010 Estate Blend possesses gorgeous inner tension and energy. Dark fruit, licorice and spices flow through to the imposing finish. The Estate Blend is one of the entry-level wines at Epoch, but it has all of the qualitites of the higher-end bottlings, and costs less. This is a great introduction to the Epoch house style. The blend is 56% Syrah, 26% Grenache, 11% Mourvedre and 7% Tempranillo. Anticipated maturity: 2012-2016." Antonio Galloni – Wine Advocate 90 Points; Wine Spectator 93 Points!
2008 Aurelio's Selection Star Angel ($44.99)
Marked by complex flavors built around rich mineral, graphite, dried berry, sage and cedar notes that are slow to unfold but offer wonderful depth, focus and length as they do. Syrah, Grenache and Mourvèdre. Drink now through 2022. 3,000 cases made. –JL
2009 Laird Jillian's Blend ($44.99)
"Features a complex mix of savory herb, dried berry, tobacco and mocha, ending with muscular tannins and well-focused flavors. 68 %Cabernet Sauvignon, 20% Syrah and 12% Merlot. Drink now through 2022. 1,470 cases made. – James Laube – Wine Spectator 93 Points!
Saturday, June 8th, 2013 – 4pm – 7pm
Saturday's Selections: $20.00 per person
2012 Hermano Torrontes ($17.99)
"Beginning with the entry-level Hermanos range, the 2012 Hermanos Torrontes from Cafayate in Salta is from 26-year-old vines. It has a superb bouquet of peach skin, pear and a hint of lime flower that has a Riesling-like personality. The palate is medium-bodied with crisp tannins and a precise, mineral-rich finish that shows what Torrontes can do in the right hands. Excellent. Drink now-2016." Neil Martin – Wine Advocate 92 Points!
2010 Tikal Patriota ($26.99)
"The 2010 Patriota is a blend of 60% Malbec and 40% Bonarda aged for 12 months in French and American oak. A glass-coating opaque purple color, it sports an enticing nose of Asian spices, incense, lavender, plum, and blueberry. In the glass it opens to reveal a ripe, plush, savory wine with no hard edges. Drink this well-balanced, lengthy wine over the next 5-6 years. It is also an outstanding value." – Jay Miller – Wine Advocate 91 Points!
2010 Cuvelier Los Andes Malbec ($24.99)
"The 2010 Collecion Malbec is my favorite of the single varietal wines. Fragrant black cherries, exotic spices, and floral aromas lead to a plush, ripe, pleasure-bent wine that will drink well for another 8-10 years. It is a fantastic value in Malbec.
Cuvelier Los Andes is owned by Bertrand and Jean-Guy Cuvelier, part-owners of renowned Bordeaux Chateau Leoville-Poyferre in Saint Julien." Jay Miller – Wine Advocate 91 points!
2010 Luca Malbec ($36.99)
"The 2010 Malbec (100%) was sourced from 46-year-old vines and spent 16 months in 60% new French oak. It offers up an inviting nose of exotic spices, incense, cherry cola, wood smoke, and black cherry. On the palate it opens to reveal a plush, moderately structured Malbec that will benefit from another 2-3 years of bottle age. Drink this lengthy, seamless effort from 2013 to 2022." Jay Miller – Wine Advocate 93 Points!
2009 Tikal Jubilo ($49.99)
"The 2009 Jubilo is a blend of 60% Malbec and 40% Cabernet Sauvignon aged for 16 months in French and American oak. Aromas of pain grille, pencil lead, exotic spices, violets, black currant, and blackberry inform the nose of a savory, structured, layered, incipiently complex offering that will benefit from another 2-3 years of cellaring. Drink this nicely proportioned, lengthy effort from 2013 to 2024." Jay Miller – Wine Advocate 92 Points!
A REMINDER SATURDAY IS OUR WINE SPECIAL. TAKE 20% OFF ON ALL WINES!
Hope to see you all at the tasting!
Jason Perry