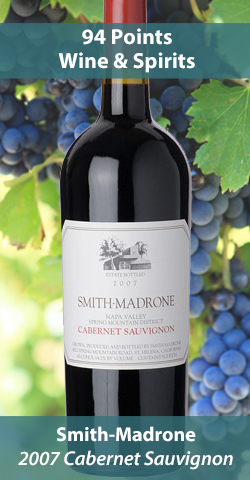 Friday night and Saturday afternoon in El Cajon we'll welcome a representative from San Simeon wines, known for wines crafted in the cool climes of California's majestic coast. We'll pour tastings from vineyards ranging from Monterey to Paso Robles, including a Chardonnay, Pinot Noir, Syrah and Cabernet Sauvignon.
As a bonus we'll also taste a superb Smith-Madrone Spring Mountain Napa Cabernet from the terrific 2007 vintage that has consistently corralled 90-plus ratings from the experts. This is a terrific, well-crafted cab.
To finish up, we were finally able to garner some hard-to-get Stella Rosa Black Label that some of our long-time customers have been clamoring for! This Limited Edition is well worth the wait.
So, come join our merry band of Monterey Coasters and enjoy a great time!
~ Bill Callahan
Harvest Ranch El Cajon Wine Tasting Event:
Friday, January 10th, 2014  5pm – 7pm
Saturday, January 11th, 2014  3pm – 5pm
759 Jamacha Road
El Cajon, CA 92019
619-442-0355
View Map
Featuring "The Monterey Tasting"
This weekends selections: $15.00

San Simeon Chardonnay 2012   ($15.99 During Tasting)

A rich, mouth-filling wine with ripe tropical fruit flavors with complements of citrus and pear. The nose reveals bright fruit and oak toast with hints of vanilla and spice. Mineral notes express the rocky terrior of the vineyards.
San Simeon Pinot Noir 2011    ($21.99 During Tasting)
This is a rich, fruit-driven wine with ripe flavors of black cherry and raspberry. The mouth is soft and round with a lingering finish. Aromas of bright red fruit, cinnamon, and oak spice.
San Simeon Syrah 2008   ($21.99 During Tasting)
The Loma Vista Vineyard is ideal for the development of intense flavors and aromas and this Syrah displays ripe plum and wild berry flavors after being aged in French and American oak barrels for 16 months.
San Simeon Cabernet Sauvignon 2008    ($21.99 During Tasting)
Bright aromas of raspberry and black cherry combine with ripe flavors of spicy plum and currant complemented by nuances of cocoa and cedary oak from barrel aging.
Smith-Madrone Cabernet Sauvignon 2007    ($16.99 During Tasting)

A product of a great vintage this perfectly balanced cab has a deep dark, almost inky black color and boasts a heady aroma of black currants, blueberries, cedar, cassis and consistently won 90-plus ratings. One percent of Cabernet franc and two percent of Merlot were blended into the wine. 94 Points Wine & Spirits
Stella Rosa Black Label    Limited Edition    ($15.99 During Tasting)

Customers have been begging for it and we finally scored some Stella Rosa Black, their newest, limited-edition flavor. Semi-sweet yet intense, it's a red blend that tastes as sexy and seductive as it looks, with black cherry and wild berry notes.
See you all this weekend!