The Valentine's Tasting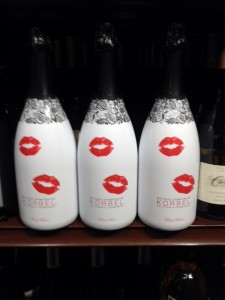 It's time for sweets and kisses – Valentine's Day is upon us once again – and we have an appropriate flight of lovely wines for our tasting this weekend.
We'll start off with a gorgeous, lipstick-decorated Korbel bubbly and then move to a delicate Cotes de Provence       rosé, a limited-release Santa Cruz Pinot Noir and two smooth California blends, including a 92-point-rated Ramey Claret.
We think you'll find these wines quite interesting and enjoyable so please join your fellow tasters and your favorite Valentine, Bill Callahan, who will provide an assortment of cheeses, crackers and other goodies to accompany these fine wines.
Harvest Ranch El Cajon Wine Tasting Event:
Friday, February 13th, 2015  5pm – 7pm – $20/person
Saturday, February 14th, 2015  3pm – 5pm – $15/person

759 Jamacha Road
El Cajon, CA 92019
619-442-0355
View Map
Korbel California Brut Rosé     ($12.99 During Tasting)

A pleasant, crisp California bubbly with bright flavors of cherry, melon and strawberry that pairs beautifully with a wide range of foods, including cheese, smoked chicken and sushi and is excellent with chocolate – making it the perfect choice for Valentine's Day.
Minuty Rosé 2013      ($16.99 During Tasting)
This light rosé wine expresses some very intense aromas of citrus fruits and white flowers. Its velvety mouth associated with its freshness gives it something very aerial. Delicious blend of Grenache: 60%; Tibouren: 10%; Syrah: 10%; Cinsault: 20%.
Chalone Pinot Noir 2010       ($14.99 During Tasting)
"Grown on limestone- and granite-based soils not far from Calera, just west of the Pinnacles National Monument. It's a robust pinot noir, the fruit sappy but also fragrant, suggesting the dry chaparral that grows in these hills. Match its power to twice-cooked pork."  – 92 Points W&S
  Cinnabar Mercury Rising 2013     ($16.99 During Tasting)

Smooth Bordeaux-style blend of Cab, Merlot, Petite Verdot and Petite Sirah opens with delicate aromas of blackberry, crème de cassis, cedar and honeysuckle and features pronounced flavors of ripe black cherry, plum, herbs, vanilla and toasted oak.
Ramey Napa Valley Claret 2012     ($33.99 During Tasting)

"Another outstanding example of value-priced Cabernet Sauvignon in a blend of 70% Cab, 24% Merlot and the rest Malbec, Syrah, Cabernet Franc and Petite Verdot. Consumers will love this beauty." – 92 Points Robert Parker