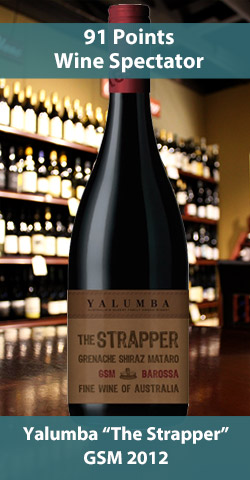 "The Aussie Tasting"
Let's go Down Under this week as for the first time in a long while we sample wines from our Australian mates. We've got a 90-plus rated Aussie version of a GSM that is delicious and a 90-rated Shiraz among the selections.
We'll also sample a luscious Viognier that's perfect for summer sipping a smooth Cabernet Sauvignon and another of Australia's signature Shiraz offerings.
So, slap a shrimp on the barbie and stop by and enjoy the company of your fellow tasters and host Bill Callahan, who will complement these fine wines with another varied assortment of cheeses and other goodies.
Harvest Ranch El Cajon Wine Tasting Event:
Friday, August 22nd, 2014  5pm – 7pm
Saturday, August 23rd, 2014 3pm-5pm

759 Jamacha Road
El Cajon, CA 92019
619-442-0355
View Map
This weekends selections: $15.00

Yalumba Eden Valley Viognier 2013      ($18.99 During Tasting)

Apricot fruit aromas and flavors with long luscious texture and hints of orange oil to finish. After harvest about 60% of the fruit was gently pressed directly to barrels, the rest to a stainless steel tank. Nice complexity and creaminess.
Yalumba "The Strapper" GSM 2012      ($18.99 During Tasting)
Authentic Barossa Shiraz is sandwiched between the understated fragrant perfume of Grenache and the earthy, rustic tannins of Mataro – a well bred, strapping and savory blended wine. ­­– 91 Points Wine Spectator
Jim Barry Cover Drive Cabernet Sauvignon 2012     ($18.99 During Tasting)
Fruit from this vineyard and family-owned Cabernet Sauvignon vineyards in the Clare Valley have been blended to produce a wine rich, soft and approachable, featuring flavors of blackcurrant, mint and morello cherries.
Yalumba Patchwork Shiraz 2012     ($18.99 During Tasting)

This wine opens with lush and juicy dark cherry, licorice spice and wild flower notes that lead into brambly herbal and smoky earth tones. On the palate a satin-textured dark mulberry and plum fruit appears with a succulent jazzy acidity lifting the gravelly fruit.
  Jim Barry Lodgehill Shiraz 2011     ($18.99 During Tasting)

 This wine has a deep black color with a magenta hue. Aromatically it offers vibrant notes of blueberry and dark cherry. A juicy, fleshy palate is supported by ripe cherry and blackberry fruit. This is delicately built with fine, lingering tannins – wrapped up in integrated, well-seasoned oak.  – 90 Points Wine Advocate