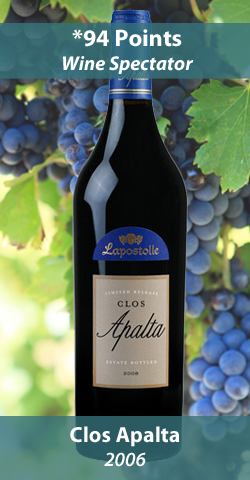 This Friday at Harvest Ranch El Cajon, we'll take a look at South American wines.
The ocean of decent Chilean and Argentine imports has always tossed ashore a few scattered pearls, but never a range of head turners like the top wines we are seeing now. The perfect climate and water from the Andean snow melt give South America an unlimited potential.
"When I began making wine here in 1989," says well-known California-based winemaker and consultant Paul Hobbs, "nearly all the wines were oxidized, tired and brown. Argentines thought that's what good wine meant."
Now however, such quality pioneers as Nicolás Catena in Argentina and Aurelio Montes in Chile, and international consultants like Hobbs and France's ubiquitous Michel Rolland are showing the world the incredible quality South America can produce.
You don't want to miss this one!
~ Patrick
Harvest Ranch El Cajon Wine Tasting:
Friday, August 30th, 2013 – 5pm – 7pm
759 Jamacha Road
El Cajon, CA 92019
619-442-0355
View Map
Quintessential Wines
This weeks selections: $15.00

Hermanos Torrontes 2012 ($14.99 During Tasting)

"Superb bouquet of peach skin, pear and a hint of lime flower that has a Riesling-like personality. The palate is medium-bodied with crisp tannins and a precise, mineral-rich finish that shows what Torrontes can do in the right hands. Excellent." 92 Points – Robert Parker
Kaiken Ultra Cabernet 2006  ($19.99 During Tasting)
Nose of cedar, tobacco, black currant and blackberry. On the palate, this medium to full-bodied effort reveals some silky tannin, spicy, savory fruit, and excellent length.
Catena Malbec  2010  ($21.99 During Tasting)
"Aromas of blackberry, strawberry cheesecake, a touch of cassis and violets. The palate is medium-bodied with supple tannins on the entry. The acidity is crisp and lends tautness towards the succulent finish, which bestows blackberry, black olive and loganberry fruit. This is a finely crafted, feminine Malbec." 91 Points – Robert Parker
Clos Apalta 2006  ($52.99 During Tasting)
"Once again, Clos Apalta distinguishes itself as one of Chile's best wines. The bouquet is dark and slightly minty, with licorice, shoe polish and ripe, herb-tinged black fruit. Saturated and deep in the mouth, with cola, cassis, black cherry and blackberry flavors."  Carmenere, Merlot, Cabernet, Petit Verdot blend.  Wine of the Year – 94 Points – Wine Spectator

Purple Angel 2010  ($54.99 During Tasting)

"A dark, ambitious red, with ample toast and mocha to the macerated plum skin, dark cherry and grilled fig fruit, pumping out layers of humus, iron and olive paste before the fruit returns for an encore on the finish."  Carmenere, the Bordeaux varietal that was considered extinct, was discovered in Chile.  Michele Rolland and Montes have taken it to a new level with Purple Angel! 93 Points – Wine Spectator.
See you all at the tasting!