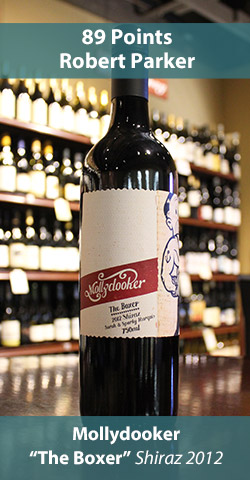 Okay, it's a stretch, but go a few rounds with me this weekend starting with a Talbott Kali Hart (sounds like 'hurt,' get it?) Chardonnay and a Talbot Sleepy Hollow Vineyard Pinot Noir (when you get knocked out you get sleepy and everything is noir!)
An Uppercut Napa cabernet sauvignon is self-explanatory but the Antucura's Malbec sounds like 'left hook' to me. A Mollydooker "The Boxer" Shiraz fits right in followed by a Foxglove (yes, glove) Zinfandel.
Am I punch-drunk? Sure, from a solid card of wines. Please join me this weekend. –
Bill Callahan
Harvest Ranch El Cajon Wine Tasting Event:
Friday, March 7th, 2014  5pm – 7pm
Saturday, March 8th, 2014  3pm – 5pm
759 Jamacha Road
El Cajon, CA 92019
619-442-0355
View Map
Featuring a "Boxing-Themed Tasting"

This weekends selections: $15.00

Talbott Kali Chardonnay 2012   ($16.99 During Tasting)

Aromas of fresh pear and melon. This wine's balance of richness and energy makes it highly flexible with food and easy to drink by itself. – 89 Points Tanzer
Talbott Logan Pinot Noir 2012    ($21.99 During Tasting)
Know for their Chardonnays, this Monterey winery has been coming on in recent years with quality Pinot Noirs like this tasty offering.
Uppercut Napa Cabernet Sauvignon  2010     ($16.99 During Tasting)
The perfect match for a sizzling steak. Well-structured tannins give this wine the backbone to stand up to boldly flavored foods, as well as a plush texture.
Antucura Malbec 2012     ($14.99 During Tasting)

Springy berry character, generous bodied, a moderate-alcohol style wine with lively freshness. Smooth tannins lead the ­finish to the bright fruit tastes.
Foxglove Paso Robles Zinfandel 2012     ($13.99 During Tasting)

Deep ruby red, on the nose this wine exhibits lifted notes of dark cherry, plum and expresso bean. In the mouth ample flavors of cassis, cinnamon and nutmeg dominate. – 91 Points Tanzer
Mollydooker "The Boxer" Shiraz 2012     ($25.99 During Tasting)

 "Deep garnet-purple in color, The Boxer Shiraz opens with tons of intense chocolate, vanilla and spice intermingling with an aromatic core of ripe and berry preserves. Very big, full and rich." – 89 Points Robert Parker

See you all this weekend!