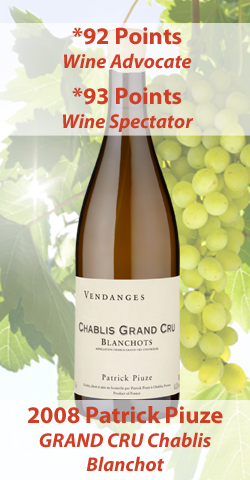 This weekend we will be sampling some great wines from France.
Friday, we will sample wines from Burgundy. Burgundy, a fairly small wine region in central eastern France, makes some of the worlds most sought after, expensive, and exquisite wines.  The system of land ownership is complex.  Burgundy has thousands of tiny vineyards, each with multiple owners.  Two varietals dominate.  All top white Burgundies are made from Chardonnay, and all top reds are come from Pinot Noir.  On Friday we will explore wines of Burgundy including the highest classification for Chardonnay, a grand cru!
On Saturday we will introduce you to some great wines from the Rhone Valley in France. The Rhone Valley in Southeastern France is divided into two parts: The northern Rhone and the Southern Rhone. Wines from each region are distinctly different.  Red wines dominate the region.  The most famous northern Rhône's are Cote Rotie and Hermitage'; the most famous southern Rhone is Chateauneuf du Pape.  Syrah is the sole red grape in the north.  Southern Rhone wines are usually blends of many grapes, the most important of which are Grenache and Mourvèdre.  On Saturday we will explore wines from both parts of the Rhone, be sure to come out and join us.
Jonathan's Market La Jolla Wine Tasting:
Friday, June 14th, 2013 – 4pm – 7pm
Saturday, June 15th, 2013 – 4pm – 7pm
7611 Fay Avenue
(between Kline St & Pearl St)
La Jolla, CA 92037
Phone: 858.459.2677
View Map
Friday, June 14th, 2013 – 4pm – 7pm
Friday's Selections: $20.00 per person
2010 Domaine du Pas de L'escalette Rose ($19.99)
Carignan and Cinsault with a touch of Grenache and Syrah are pressed and quickly separated from the skins in order to produce a delicate rose. The pale pink color of this rosé foils its vibrantly hued aromatics. Brilliantly perfumed with wild strawberry, thyme and soft florals, the wine is unashamedly inviting. A subtle minerality mid-palate gives depth to the wild aromatics while bright acidity invigorates the sweeter floral and fruit notes and lends uplift. It is this tension that reveals a certain delicacy and complexity.
2008 Patrick Piuze GRAND CRU Chablis Blanchot ($84.99)
Piuze's 2008 Chablis Blanchots smells of ocean breeze, and fresh lime. Pronouncedly mineral on the palate, it at the same time exhibits a succulence of grapefruit and white peach that goes beyond the other wines in its collection. A slightly lactic note dissipated after the bottle had been open for a few hours. And while this might not finish with real succulence, it offers a startlingly pungent and piquant burst of fresh lime, cherry, peach, cherry pit, and tenaciously persistent maritime mineral character. I would not be surprised to see this prove worth following for a decade."  – Neal Martin. Wine Advocate 92 Points! Wine Spectator 93 Points!
2006 Joseph Drouhin Savigny-Les-Beaune ($24.99)
Savigny is a charming village, tucked away in a little valley between Pernand and Beaune. A remarkable feature of the appellation is that the vineyards are planted on two hills with different exposures : North is the Vergelesses slope, producing delicate, perfumed wines.  Savigny-les-Beaune is a delicate and elegant wine showing intriguing spicy notes as well as wild berries. The spicy character is typical to that area. On the palate, the wine has considerable finesse and elegance.
2006 Domaine Pavelot Pernand-Vergelesses ($29.99)
Frequently underappreciated, Pernand-Vergelesses often over-delivers and offers Burgundy lovers charming wines at reasonable prices. This is especially true now that a new generation of young vignerons is firmly established in their family domains. Located at the base of the famous Corton-Charlemagne hill on its west facing slope, the village and its surrounding vineyards are home to many exquisitely crafted, mineral driven Chardonnays and Pinots.
2006 Joseph Drouhin Chambolle-Musigny ($44.99)
The Drouhin 2006 Chambolle-Musigny's notes of dark forest floor, roasted meat, bitter-sweet black fruit, clove, and pepper set of flavors renders this far more somber than I anticipated. Texturally, it is quite refined, with a hint of creaminess. Chalky and saline mineral notes and a fresh fruit skin edge lend invigoration and refreshment to a satisfyingly long finish.  This could use a bit of bottle time to explore its potential synergies, but will I suspect be best enjoyed within 3-4 years.
Saturday, June 8th, 2013 – 4pm – 7pm
Saturday's Selections: $20.00 per person
2010 E. Guigal Cotes du Rhone Blanc ($17.99)
55% viognier, 20% roussanne, 10% each of clairette and marsanne, and 5% bourboulenc, all raised in stainless steel):  Light yellow.  Fresh, aromatic scents of peach, yellow plum and lemon curd, lifted by a spicy overtone.  Dry and precise, with sappy pit and citrus fruit flavors that put on weight with air.  Closes with good energy and clarity, leaving spice and lemon notes behind.  This is quite suave for the category and would be a great pairing for lighter seafood dishes." Stephen Tanzer – 89 Points; Wine Advocate – 88 Points; Wine Spectator – 88 Points!
2007 Domaine du Chene Condrieu ($44.99)
Domaine du Chene is perhaps less familiar to Rhone lovers here in the United States, however this obscurity will certainly be short-lived. Winemakers Marc and Dominique Rouviere are first generation vignerons who have tended their vines and built their domaine from the ground up. This Condrieu is medium bodied with vibrant notes of peach, white flowers and spicy ginger. Judicious use of oak adds very subtle vanilla bean notes, however what makes this Condrieu "pop" is a beautiful acidity that makes each sip more intriguing than the next. Enjoy with smoked salmon, monkfish or poulet a la creme!
2009 E. Guigal Cotes du Rhone Red ($17.99)
There are 3.5 million bottles of the 2009 Cotes du Rhone red, which represents an amazing value. A blend of 50% Syrah, 40% Grenache and 10% Mourvedre, it comes primarily from the Plan de Dieu (Plain of God), which is situated northeast of Chateauneuf du Pape. This tank-aged, deep ruby/purple-colored, concentrated, fleshy, medium to full-bodied, supple offering reveals plenty of pepper, kirsch and black currant fruit intermixed with a notion of flowers. It is meant to be consumed during its first 2-3 years of life although I have tasted 10-year-old bottles that are still holding together. (10/ 2011) Robert Parker – Wine Advocate 89 Points; Stephen Tanzer – 90 Points!
2009 Pierre Usseglio & Fils Chateauneuf-du-Pape ($54.99)
"The 2009 Chateauneuf du Pape Tradition is an exact blend of 82% Grenache, 10% Syrah and the rest Cinsault and Mourvedre. Aged half in cement tanks and the rest in foudres, the wine displays some dusty tannins, which sometimes are an issue with this vintage, but soft berry fruit, roasted herbs and plenty of kirsch, lavender and licorice as well. It is a classic Provencal wine to drink over the next 8-10 years." Robert Parker – Wine Advocate 90 Points!
2010 Andre Brunel Chateauneuf-du-Pape ($54.99)
This has a nice old-school edge, with toasted chestnut and singed juniper notes leading the way for dark cassis, blackberry and plum fruit flavors. A strong tarry spine drives the finish, where hot stone, lavender and tobacco lurk as well. For the cellar. Best from 2015 through 2025. 100 cases imported. – JM  Wine Spectator – 93 Points!
Hope to see you all at the tasting!
Jason Perry