The Orin Swift Tasting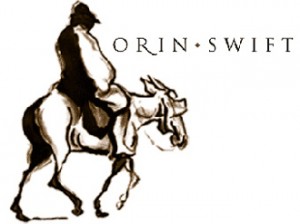 The history of Orin Swift Cellars dates back to 1995 when on a lark, David Swift Phinney took a friend up on an offer and went to Florence, Italy to spend a semester "studying". During that time, he was introduced to wine, how it was made, and got hooked. A few more years of university led to graduation and eventually a job at Robert Mondavi Winery in 1997 as a temporary harvest worker. Deciding that if he was going to work this hard, it would eventually have to be for himself and created Orin Swift Cellars in 1998; Orin is his father's middle name and Swift is his mother's maiden name. Despite the growth, Orin Swift Cellars continues to operate as a small, passionate team of friends and family dedicated to making great wine.
This week, due to overwhelming demand, we're pleased to showcase some of the Orin Swift wines.
Come early ~ you won't want to miss these!
Harvest Ranch El Cajon Wine Tasting Event:
Friday, May 1st, 2015  5pm – 7pm – $20/person
Saturday, May 2nd, 2015 3pm-5pm – $15/person
759 Jamacha Road
El Cajon, CA 92019
619-442-0355
View Map
The Orin Swift Tasting

Mannequin     ($27.99 During Tasting)

Dazzling straw-gold in color, the wine serves up superrich aromas of ripe pineapple, vanilla bean, raw coconut, and honeyed lemon. The entry is supremely lush with complex flavors of roasted fig, apricot, green apple, and orchard fruit.
Saldo     ($27.99 During Tasting)
"Jammy and loaded with toasty oak, with aromas of dark cherry, caramel and cracked pepper leading to zesty flavors of dried sage, espresso and licorice. "  ~ 90 Points Wine Spectator
Abstract   ($29.99 During Tasting)

Extraordinary freshness is present upon entry leading to lush flavors of sweet boysenberries, kirsch, licorice, dark cherries, and exotic floral notes. The palate is thoroughly treated and left with a finish of bright acidity and round tannins, which exist in seamless balance.  Abstract is a blend of Napa, Sonoma, and Mendocino Grenache, Petite Syrah, and Syrah primarily from hillside vineyards.   SOLD OUT
Machete   ($44.99 During Tasting)

The entry is big, dark, and brooding with concentrated berry flavors, black cherry, mocha, and delightful earthy, brambly notes. Soft and lush, the tannins are sublime which offsets a pleasing mineral finish. Bottled with 12 Different Labels ~ Petit Syrah, Syrah, Grenache
Palermo    (Available to purchase but not to taste – Price available at tasting)
Owner and winemaker Dave Phinney purchases Cabernet Sauvignon grapes that are intended specifically for Mercury Head and Papillon. Every year, he buys more grapes than he needs for the two blends so he always has multiple vineyards and corresponding wine characteristics to choose from.  The remaining grapes go into Palermo. Tragically, he lost 85% of the bottled 2013 Palermo in the earthquake ~ we had to call in a big favor to get this one case for you!
We hope to see you out this weekend!