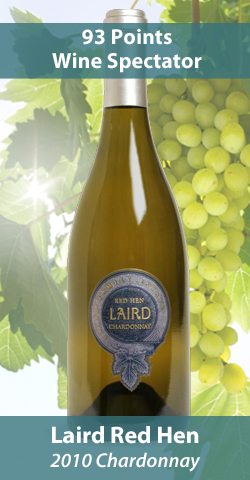 Legend has it the ugly duckling is passed over by everyone, until finally, it becomes the beautiful swan; at which point everyone wants it.
This Friday at El Cajon, we will sample some "ugly duckling wines" that have been passed over on a consistent basis for more popular brethren.  Our contention is that these wines are ready to morph into "swan status".
Stop by and join us…….! You're sure to uncover a swan or two!
See you here.
Patrick Campbell
Harvest Ranch El Cajon Wine Tasting:
Friday, July 19th, 2013 – 5pm – 7pm
759 Jamacha Road
El Cajon, CA 92019
619-442-0355
View Map
This weeks selections:
Laird Chardonnay Red Hen Vineyard. 2010 ($25.99 During Tasting)

Considering the amount of vineyard land the Lairds own, and the fact that Paul Hobbs makes their wine, Laird Chard does not get the recognition one might think.  Add to this the fact that the 09 vintage got great press, and a 93 point score from Wine Spectator, and you see why it landed on our "Ugly Duckling List".
Field Recordings Fiction Blend 2011 ($11.99 During Tasting)
A blend of Pinot Gris, Sauvignon Blanc, and Muscat that is ripe, sweetly fruited, and surprisingly food friendly.  Sure to please anyone who likes Caymus Conundrum (but wants to spend a little less!).  Winemaker Andrew Jones spends most of his time planting and tending vineyards around California, which allows him to get access to small lots of fine fruit from around the state.
Torii Mor Pinot Noir 2005 ($49.99 During Tasting)
"It's a pleasure to taste Oregon Pinot from vines this old; they have a certain grace and sensuous elegance that the young vines can't muster. Beautiful aromas are complex with mixed fruits, hints of mushroom and dried leaves. It's a silky, nicely defined wine that should age along Burgundian lines." 91 points Wine Enthusiast
Ch. De Bel  2009 ($14.99 During Tasting)
With the sheer number of Bordeaux wines on the market, it's no wonder Ch. De Bel gets overlooked.  However, this wine over delivers in a massive way.  It's made so many Best Buy lists, it's easier to just say "remember de Bel".  2009 was also a great vintage for Bordeaux!
Robert Foley Charbono 2007 ($29.99 During Tasting)

Ripeness and brightness together, tannins silky soft, and a nicely balanced, tangy acidity resolve in a long flavorful finish.  This suave and distinctive wine is very food-friendly: Winemaker Foley suggests pairing it with oily sea bass or pork-or pizza or a cheeseburger." 90 points ST.
Darms Lane Cabernet 2009 ($45.99 During Tasting)

Darms Lane is one of those wineries that travels under the radar, but it really is worthy of your attention.  With this superb 2009 Cab from their Oak Knoll vineyard, they're continuing a string of successful bottlings with prices that have held steady for many years. 93 points Wine Enthusiast
See you all at the tasting!