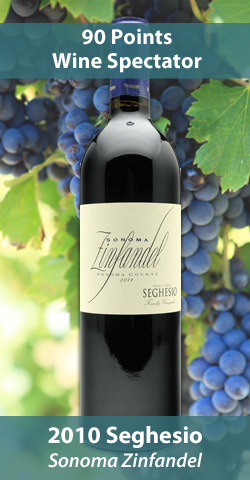 This Friday at Harvest Ranch El Cajon we will explore our favorite growing regions for California's most iconic grape, the Zinfandel.
Periodically, Zinfandel comes into style and then goes out of fashion.  It's currently "in" like never before, with hot new restaurants in wine country giving it prominent placement on their wine lists. In general, Zin has two styles: one from warm, inland regions, and one from cooler regions with some maritime influence.  The former tends to be the ripe, jammy style, and the latter a more elegant style.
We hope you'll join us this week as we zero in on some of California's top Zinfandel addresses, from Napa and Sonoma to Mendocino and Amador, and of course, Paso.
~ Patrick Campbell
Harvest Ranch El Cajon Wine Tasting:
Friday, August 16th, 2013 – 5pm – 7pm
759 Jamacha Road
El Cajon, CA 92019
619-442-0355
View Map
This weeks selections: $15.00

Frog's Leap Zin 2010 ($24.99 During Tasting)

Luscious flavors of cherry and boysenberry–laced with hints of earth and spice–delight your palate. The resolved tannins and plush texture are balanced by a bright acidity. However, the beauty of this wine is its drinkability and with an alcohol of less than 14% you are assured a perfect partner for your backyard get-togethers. 91 Points – W&S
  Seghesio Sonoma Zin  2010 ($23.99 During Tasting)
"Jammed with pepper and licorice, plus black raspberry, sage and smoke.  Still youthful and unpolished, but promises much." 90 Points – Wine Spectator
Trinitas Mendocino Zin 2009 ($19.99 During Tasting)
Juicy strawberry and blackberry fruit with an inkling of lavender and dark chocolate will work with barbecue sauces, especially those with a bit of sweetness. The fruit is kept fresh and lively with acidity, and the wine finishes with smooth, ripe tannins that make the wine a pleasure to drink.
Renwood Amador Zin 2010  ($16.99 During Tasting)
This classic old vine character also exhibits notes of lavender. On the palate full in body and very ripe the dark fruit on the first taste melds into mildly spicy fruit with a hint of roasted coffee towards the end. Overall this dusty and bold wine offers ample flavor. 94 Points Gold – LAWC
Opolo Paso Zin 2010 ($25.99 During Tasting)

If you like your Zins big and rich, Opolo is where it's at.  An intense nose of sweet red fruits, quince, and berry compote lead to a palate showing layers of black raspberry and plum preserves with accents of vanilla and caramel. There is a hint of smokey spice at the finish.
See you all at the tasting!