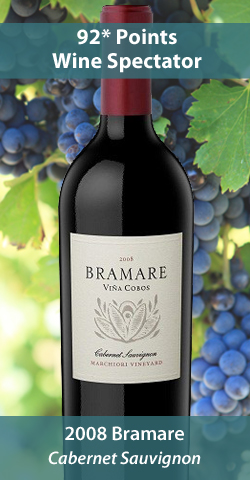 On Friday we will sample wines of Argentina. Argentina ranks 5th world wide in wine production.  In the past Argentinean winemakers focused on quantity as opposed to quality; however that has changed in more recent times.  The major wine regions of Argentina are located in the western part of the country among the foothills of the Andes Mountains, Torrontes is the most common white varietal, and Malbec, brought by the French, has clearly become the most important red varietal.  Therefore, we will begin with a great little inexpensive Torrontes that scored an amazing 92 points from Robert Parker before moving to the four red wines of the evening.  We will taste a Norton Privada red blend, two entry level wines from the highly acclaimed Achaval Ferrer, and finally, the Paul Hobbs assisted project Bramare Cabernet.
On Saturday we will head north to sample wines from Washington.  While its neighbor Oregon focuses primarily on Pinot Noir, Washington produces a broad spectrum of wines, many of high quality, similar to California wine production.  Washington has seen a drastic rise in recognition over the last few decades, perhaps best exemplified by Quilceda Creek winery, which has received three 100 Point Wine Spectator ratings.  Only fifteen other domestic wineries, all in California, have received that ranking.  We will begin with two Chardonnay's highlighted by the 94 Point 2012 Owen Roe Dubrul Vineyard Chard (The Dubrul Vineyard is a two time Vineyard of the year recipient). We will finish with three reds culminating with the 93 Point 2010 Tamarack Cellars Cabernet.
See you this weekend.
~Jason Perry
Jonathan's Market La Jolla Wine Tasting:
Friday, November 22nd, 2013 – 4pm – 7pm
Saturday, November 23rd, 2013 – 4pm – 7pm
7611 Fay Avenue
(between Kline St & Pearl St)
La Jolla, CA 92037
Phone: 858.459.2677
View Map
Friday, November 22nd, 2013 – 4pm – 7pm
Friday's Selections: $20.00 per person
Featuring "The Wines of Argentina":
2012 Hermanos Torrontes ($16.99)
"Beginning with the entry-level Hermanos range, the 2012 Hermanos Torrontes from Cafayate in Salta is from 26-year-old vines. It has a superb bouquet of peach skin, pear and a hint of lime flower that has a Riesling-like personality. The palate is medium-bodied with crisp tannins and a precise, mineral-rich finish that shows what Torrontes can do in the right hands. Excellent. Drink now-2016." Neal Martin Wine Advocate 92 Points!
2010 Norton Privada Red ($27.99)
"A dense, smoky red, showing a creamy edge to the spicy kirsch, plum sauce and grilled fig notes that mingle with hints of baking spice and medium tannins. Fine length. Malbec, Merlot and Cabernet Sauvignon. Drink now. 6,500 cases imported." –NW Wine Spectator 91 Points; Wine Enthusiast 91 Points; Wine Advocate 89 Points!
2011 Achaval Ferrer Malbec ($29.99)
"Very pure, with a beam of raspberry coulis, blackberry and cherry pulp notes that pump out layers of spice, flint and wildflowers. Juicy yet structured, with a mineral edge to the long, savory finish. Drink now through 2015. 13,000 cases imported." –NW Wine Spectator 92 Points; Wine Advocate 89 Points!
2012 Achaval Ferrer Cabernet ($29.99)
"The 2012 is a juicy red, showing a candied edge to the racy raspberry and cherry fruit, with cedar and mineral accents to the chewy finish. Drink now. 2,200 cases made." –NW  Wine Spectator 88 Points!
2008 Bramare Cabernet ($74.99)
A Paul Hobbs project, "The 2008 Bramare Cabernet Sauvignon Marchiori Vineyard is a bit more reticent aromatically. Spice box, cedar, violets, black currant, and blackberry aromas are followed by a ripe, elegantly styled Cabernet with complex flavors and enough underlying structure to evolve for 2-3 years, Drink this suave Cabernet from 2012 to 2023." Jay Miller  Wine Advocate 92 Points; Wine Spectator 92 Points!
All Featured Wines available 15% OFF Friday only while supplies last!
Saturday, November 23rd, 2013 – 4pm – 7pm
Saturday's Selections: $20.00 per person
Featuring "The Wines of Washington":
2012 Gordon Estate Chardonnay ($19.99)
Our 2012 Estate Chardonnay is a joyful expression of youthfulness and vibrancy – the wine exhibits just a hint of green hue reminiscent of new spring growth. This Chardonnay has aroma in abundance with melon, papaya, honeysuckle, ripe fresh grapes and touches of vanilla. A soft inviting texture with flavors of lemon meringue pie, hints of wood smoke and snicker-doodle spice. A lively and lingering finish makes this wine a perfect accompaniment to an easy summer evening. Enjoy!
2012 Owen Roe Dubrul Vineyard Chard ($54.99)
"It combines deft balance with explosive flavor, offering layers of pear, white peach, floral and crème fraîche that sails smoothly over refined acidity into the long, expressive finish. Drink this now through 2017. 191 cases made." –HS  Wine Spectator 94 Points!
2011 Gordon Estate Cabernet ($29.99)
"The raspberry and cherry and currant flavors are nicely defined and deep, underscored with crisp acidity, and showing the sort of youthful concentration that suggests further cellaring is in order. Nonetheless, it's a wine to enjoy right away simply for its luscious, exuberant fruit –P.G." Wine Enthusiast 91 Points!
2010 Tamarack Cellars Firehouse Red ($19.99)
Similarly styled, with a delicious, medium-bodied, easy drinking profile, the 2011 Firehouse Red is a kitchen sink blend of 26% Merlot, 24% Syrah, 22% Cabernet Sauvignon, 10% Cabernet Franc and smaller parts of Sangiovese, Malbec, Zinfandel and Grenache. Big, fleshy and well textured, with plenty of red and black fruit, pepper, underbrush and spice box qualities, it should be consumed over the coming handful of years. Drink now-2016." Jay Miller  Wine Advocate 87 Points!
2010 Tamarack Cellars Cabernet ($39.99)
"My favorite of the 2010s I was able to taste and one serious bottle of wine, the 2010 Cabernet Sauvignon is classic in every way. Exhibiting textbook black currant, tobacco, thyme and hints of leather, it rounds out on the palate and possesses age-worthy structure, medium to full-body, integrated acidity and a big, mineral-tinged finish. Give bottles 3-4 years and enjoy over the following decade or more. Drink 2017-2027." Jeb Dunnuck  Wine Advocate 93 Points!
Hope to see you all out this weekend!