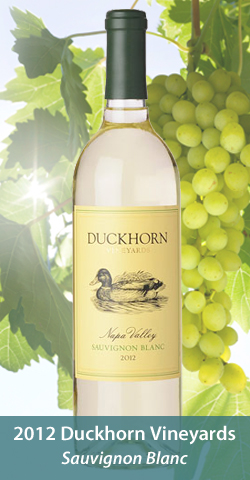 This week we welcome Jeff Cruz from Duckhorn Winery to the El Cajon wine bar.  Jeff will be pouring his favorite wines for our enjoyment, including Duckhorn Merlot and Duckhorn Cabernet!
Co-founded by Dan and Margaret Duckhorn in 1976, Duckhorn Vineyards has spent more than 30 years establishing itself as one of North America's premier producers of Bordeaux varietal wines.  If you've been to Napa Valley, you've probably visited Duckhorn.  If not, you owe it to yourself to go, as their tasting room on the Silverado Trail is as classy and as fun as it gets in Napa!
We hope you'll join us Friday to taste what many consider the finest set of wines ever assembled in California.
See you all Friday!
~ Patrick Campbell
Harvest Ranch El Cajon Wine Tasting:
Friday, October 18th, 2013  5pm – 7pm
759 Jamacha Road
El Cajon, CA 92019
619-442-0355
View Map
Duckhorn Wine Tasting
This weeks selections: $15.00

Duckhorn Sauvignon Blanc 2012    ($26.99 During Tasting)

Duckhorn sets the benchmark for Sauv Blanc.  A smooth-textured entry gives way to tingling acidity that shows off the citrus elements beautifully, while adding length to flavors of cantaloupe, Asian pear and Fuji apple.
Decoy Chardonnay 2012    ($16.99 During Tasting)
The palate is soft and velvety, offering vibrant citrus flavors intermingled with rich tropical fruit. Excellent acidity adds length and brightness to a satisfying finish.
Duckhorn Merlot 2010   ($47.99 During Tasting)
The aromas are rich and inviting with layers of amaretto, sweet spice and cedar. On the palate, lush flavors of plum, blackberry and cherry dominate, with the tannins adding structure and depth.  Another benchmark setting wine from Duckhorn.
Duckhorn Cabernet 2010    ($55.99 During Tasting)
On the palate, the entry is soft and smooth with blueberry and bittersweet chocolate flavors, as well as notes of red currant, cedar and sweet spice. The tannins are firm and youthful on the long finish, adding structure and the promise of a long life in the cellar.
Decoy Red Blend 2011    ($24.99 During Tasting)

Abundant layers of dark fruit and well-developed tannins, with rich fruit notes on the palate, and  a long, structured finish. Blend: 47% Merlot, 36% Cabernet Sauvignon, 10% Cabernet Franc, 7% Petit Verdot
Paraduxx Red Blend 2011    ($37.99 During Tasting)

This wine is rich and mouth coating with abundant blackberry jam, bramble and holiday spice flavors. The finish is long and lingering with subtle notes of vanilla, dried tobacco leaf, tarragon and chocolate-covered cherries. Blend: 63% Zinfandel, 29% Cabernet Sauvignon, 8% Merlot
See you all Friday!