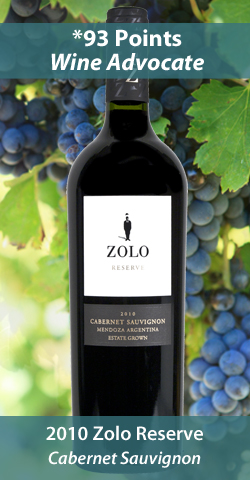 This week the Jonathan's wine tasting tour will be heading to South America for two great events highlighting wines that received great reviews.
On Friday we will taste wines of Argentina.  All five wines on tap received a minimum of 90 points from Robert Parker's Wine Advocate.  We will enjoy a nice Torrontes and Chardonnay before moving to the reds.  The red wines include a Zolo Cabernet Sauvignon, a Bordeaux blend highlighted by Malbec from Cuvelier Los Andes, and then finally the highly acclaimed Luca Malbec.
On Saturday we will taste wines of Chile.  Likewise, it is a group of wines which were awarded fantastic press.  I am excited to pour three new wines which have never been carried at Jonathan's from Errazuiz winery.  We will begin with the Errazuiz Sauvignon Blanc and Chardonnay, then taste a Syrah and Cabernet from Casa Lapostolle, before culminating with the weekends brightest star the Errazuiz Don Maximiano which received 94+ Points from Robert Parker. I tasted this wine for the first time this week and it is absolutely stunning.
~ Jason Perry
Jonathan's Market La Jolla Wine Tasting:
Friday, October 18th, 2013 – 4pm – 7pm
Saturday, October 19th, 2013 – 4pm – 7pm
7611 Fay Avenue
(between Kline St & Pearl St)
La Jolla, CA 92037
Phone: 858.459.2677
View Map
Friday, October 18th, 2013 – 4pm – 7pm
Friday's Selections: $20.00 per person
Featuring the wines of "Argentina":
2012 Hermanos Torrontes ($16.99)
"Beginning with the entry-level Hermanos range, the 2012 Hermanos Torrontes from Cafayate in Salta is from 26-year-old vines. It has a superb bouquet of peach skin, pear and a hint of lime flower that has a Riesling-like personality. The palate is medium-bodied with crisp tannins and a precise, mineral-rich finish that shows what Torrontes can do in the right hands. Excellent. Drink now-2016." Neal Martin – Wine Advocate 92 Points!
2011 Catena Alta Chardonnay ($39.99)
"The Alta Catena Chardonnay includes just a touch of botrytis that Alejandro Vigil believes adds a little complexity. That is evident on the bouquet, which offers wild honey, jasmine, nectarine and crushed stone aromas that are well-defined. The palate has good weight on the entry, with subtle notes of orange zest, dried apricot, quince and shaved ginger. It builds in the mouth, delivering a very focused, intense finish that you could say, sits comfortably between Old World and New. Drink now-2017+" Neal Martin – Wine Advocate 93 Points!
2010 Zolo Cabernet ($24.99)
"The 2010 Zolo Reserve Cabernet Sauvignon is a worthy follow-up to the 2009. It has a sedate, well-defined bouquet of kirsch, cranberry, raspberry and that gravel note. The palate is full-bodied and well-balanced with earthy ripe black fruit. It is a little broody, but draws you in, and the finish is powerful but wonderfully focused. This is a classy Cabernet. Drink 2013-2020+" Neal Martin- Wine Advocate 93 Points!
2009 Cuvelier Los Andes Colleccion ($34.99)
"The 2009 Collecion is a blend of the varietals. Purple in color, with a brooding bouquet, it is a dense, structured, rich wine with impeccable balance, volume, and length. It has the structure to evolve for 2-3 years but can be approached now. It, too, is a great value.  Cuvelier Los Andes is owned by Bertrand and Jean-Guy Cuvelier, part-owners of renowned Bordeaux Chateau Leoville-Poyferre in Saint Julien. The estate is located in the Uco Valley at the foothills of the Andes." Jay Miller – Wine Advocate 92 Points!
2010 Luca Malbec ($35.99)
"The 2010 Malbec (100%) was sourced from 46-year-old vines and spent 16 months in 60% new French oak. It offers up an inviting nose of exotic spices, incense, cherry cola, wood smoke, and black cherry. On the palate it opens to reveal a plush, moderately structured Malbec that will benefit from another 2-3 years of bottle age. Drink this lengthy, seamless effort from 2013 to 2022." Jay Miller – Wine Advocate 93 Points!
Saturday, October 19th, 2013 – 4pm – 7pm
Saturday's Selections: $20.00 per person
Featuring wines of "Chile":
2012 Errazuriz Max Reserva Sauv Blanc ($22.99)
"Hot off the press, the 2012 Sauvignon Blanc shows great promise. The nose is vibrant and peachy with great definition and vigor. The palate is well balanced with crisp acidity, lively lime-tinged fruit and a refined, clean crisp finish. This should be worth seeking out when it becomes available later this year. Drink 2013-2017." Neal Martin – Wine Advocate 90 Points!
2011 Errazuriz Max Reserva Chardonnay
"The 2011 Chardonnay sourced from Aconcagua is fermented in French oak, 5% new, then aged for 10 months. It has a taut, minimalist bouquet with citric peel and freshly cut lime, while the palate offers ripe mango and passion fruit, crisp acidity and a clean, apricot and peach tinged finish. This is a fine, flavorsome Chardonnay. Drink now-2015." Neal Martin – Wine Advocate 90 Points!
2005 Lapostolle Syrah Las Kuras Vineyard ($37.99)
"Casa Lapostolle is French owned by the proprietors of Grand Marnier.The 2005 Syrah Los Kuras Vineyard "Cuvee Alexandre" is a saturated purple color with alluring scents of meat, game, bacon, and blueberry. Layered, ripe, and full-flavored on the palate, this lengthy wine will reveal greater complexity with another 2-3 years of cellaring. Drink it from 2010 to 2018." Jay Miller – Wine Advocate 90 Points!
2009 Lapostolle Cabernet ($24.99)
The 2009 Cuvee Alexandre Cabernet Sauvignon is a 95% cluster selection raised in French oak for 12 months (43% new). It has an expressive, rich bouquet with macerated dark cherries and a touch of cassis. The palate is medium-bodied with grainy, taut tannins. It has good structure and backbone, fine balance but with a rather terse, tannic finish that needs a couple of years to soften. Drink 2013-2018." Neal Martin – Wine Advocate 88+ Points!
2007 Errazuriz Founders Reserve ($89.99)
The 2007 Don Maximiano Founder's Reserve is composed of 82% Cabernet Sauvignon, 6% Petit Verdot, 6% Cabernet Franc, and 6% Syrah that spent 20 months in new French oak. A glass-coating opaque purple color, it surrenders an enticing nose of toasty new oak, graphite, scorched earth, cinnamon, clove, violets, blueberry, and blackberry. On the palate, it reveals a suave personality that combines elegance and power. Impeccably balanced, it has the structure to evolve for 4-6 years and should provide pleasure through 2027." Jay Miller – Wine Advocate 94+ Points!
Hope to see you all out this weekend!