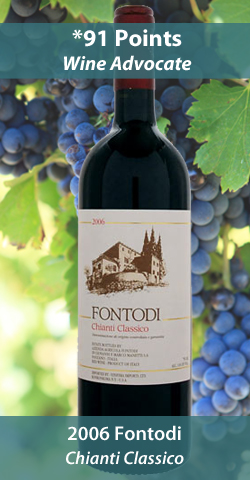 On Friday we will taste wines from Italy. Italy shares with France the title of largest wine producer in the world, its contribution representing about 1/3 of world production. There are two whites and three reds on the docket for the evening.  The two whites are a Gewurtzraminer which happens to be a fantastic Thanksgiving pairing wine, followed by a unique aged Ubiqua Chardonnay that spent eighteen months in French bariques and seven additional years in bottle, which produces intense richness.  The red wines include a Barbera d'asti, a Chinti Classico from highly regarded producer Fontodi, and finally the 93 Points "Valdisanti," which is primarily a Cabernet and Sangiovese blend.
On Saturday we will have a battle of the Syrah's. The varietal has a long documented history in the Rhône region of southeastern France, but it is not known if it originated in that region.  Nevertheless, today it is grown throughout the world and shows a wide variety of flavor profiles dependent on where it is grown(or its terroir). We will compare these various styles this evening.  Wines made from Syrah are often powerfully flavored and full-bodied, so this tasting will be for the big wine lovers.  We will begin with a Rose of Syrah before trying four different Syrah's from various regions.  (One from Australia, one from Hermitage in France, and two domestic ones – The Willamette Valley in Oregon and Paso Robles here in Cali)
~ Jason Perry
Jonathan's Market La Jolla Wine Tasting:
Friday, November 1st, 2013 – 4pm – 7pm
Saturday, November 2nd, 2013 – 4pm – 7pm
7611 Fay Avenue
(between Kline St & Pearl St)
La Jolla, CA 92037
Phone: 858.459.2677
View Map
Friday, November 1st, 2013 – 4pm – 7pm
Friday's Selections: $20.00 per person
Featuring "The Wines of Italy":
2010 Elena Walch Gewurztraminer ($19.99)
"A pale, golden-tinged straw in color. Subdued aromas of grapefruit and green fig are complemented by cinnamon and floral elements. It is soft and smooth in the mouth, with flavors similar to the aromas but only average intensity. The finish displays moderate persistence. A solid entry-level gewürztraminer." Steven Tanzer 87 Points!
2001 Ubiqua Ca del Vent ($39.99)
This is a serious Chardonnay, potent and golden in the glass. 18 months in new oak and 7 years bottle ageing produces an intense richness. Very individual, very elegant and very memorable. Intense, yellow with golden highlights. Full, complex, with floral, ripe fruit scent (banana, pinapple, candied fruit) and spicy scent (vanilla, coconut, nutmeg). Dry and balanced, softness is countervailed by freshness, body and sapidity. Definitely elegant, persistent with an aromatic palate sensation.
2006 Cantine Sant'agata Barbera D'asti ($16.99)
Quite intense ruby red with garnet highlights. The bouquet is rich and complex with hints of red berries and small fruits; in the background there are mint, vanilla and liquorice spices. The taste is generous, full-bodied making a mixture of great softness and grand class, with a particularly long aromatic finish.
2006 Fontodi Chianti Classico ($39.99)
The Chianti Classico is typically one of the last Chiantis to be bottled, but the 2006 shows all the qualities I encountered when I tasted various lots earlier, prior to final assembly and bottling. It is a big, super-ripe Chianti that captures all of the best qualities of the vintage in its rich fruit and beautifully defined aromatics. This is a serious, structured Chianti that can be enjoyed now, but that also has the stuffing to age gracefully for years. Anticipated maturity: 2009-2016." AG Wine Advocate 91 Points!
2007 Valdisanti ($39.99)
"The 2007 Valdisanti is 75% Cabernet Sauvignon, 20% Sangiovese and 5% Cabernet Franc that spent 16 months in French oak. It is the most complete of these 2007s, redolent with heady scents of dark fruit, licorice, leather and smoke. Balsamic notes develop in the glass, adding further layers of complexity and depth. This finishes with a joyful exuberance that is impossible not to admire. Anticipated maturity: 2014-2022." AG Wine Advocate 93 Points!
Saturday, November 2nd, 2013 – 4pm – 7pm
Saturday's Selections: $20.00 per person
Featuring "The Battle of the Syrah's":
2012 Stepping Stone Rose of Syrah ($19.99)
Corallina Syrah Rosé is lifted, bright and floral, laced with aromatics redolent of fresh wild herb and spices and touches of wild strawberries and white peaches. It is mouthwatering, refreshing and irresistible.
2012 Molly Dooker "The Boxer" ($29.99)
This wine has a massive array of flavors, and awesome intensity but the thing that really finishes the wine off is the creamy layers and smooth mouth feel. It's so voluptuous. Peter and Andrew Sweet, multi layered fruit, chocolate, fresh plum – a complete flavor spectrum. Excited to hold it in my mouth.
2006 Cristom Syrah ($34.99)
"Lithe, supple, focused and vibrant, with blackberry, dark plum and a shelf full of spices in the flavor profile, rushing into the long, vivid finish against polished tannins. A perfect example of cool-climate Syrah in a warm vintage. Drink now through 2017. 486 cases made." HS Wine Spectator 92 Points!
2008 Star Angel Syrah ($37.99)
This gorgeous Syrah based wine has a beautiful dark red / purple color. The up front nose is fruity and complex, condensed black berries, blueberries and black currant with a hint of well integrated French oak. Dense, rich and chewy on the palate; with a light toasty spiciness that adds elegance and complexity. Many layers make this wine intriguing deep and persistent velvety finish.
2004 Domaine du Colombier Hermitage ($54.99)
It is seldom that you ever get a deal like this from Hermitage. Once again, another importer bites the dust and we gladly (or sadly depending on which side you are on) have another extraordinary bargain. The Colombier is a wonderfully accessible wine benefitting from just the few years of bottle age it has had. "Nicely defined on the nose, with precise spice and herbal notes that add complexity to the crunchy red fruit flavors. Ripe tannins and an easy finish make for an approachable Hermitage that should be consumed on the young side. Drink now – 2015." Wine Enthusiast 90 Points!
Hope to see you all out this weekend!