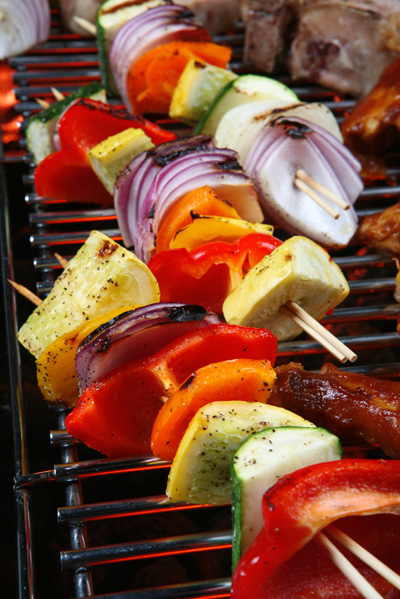 Grilling is a delightful way of preparing the season's freshest produce.
At Harvest Ranch and Jonathan's market we hand make great vegetable kabobs with the very freshest produce. We use corn on the cob, Italian squash, red onions, assorted bell peppers, mushrooms, and tomatoes.
What you will need:
¼ cup dry white wine
¼ cup honey
3 garlic cloves, minced
2 tablespoons balsamic vinegar
2 tablespoons olive oil
1 1/2 teaspoons pepper
1 teaspoon salt
Preparation:
Whisk together wine and ingredients until well blended; reserve 1/4 cup. Combine remaining white wine mixture and vegetables in a large bowl. Cover and chill at least 30 minutes or up to 2 hours. Remove vegetables from marinade, discarding marinade.
Cooking Instructions:
Grill to desired doneness, and serve with reserved white wine mixture.
For any questions about recipes, or grilling tips email Chef Mike.