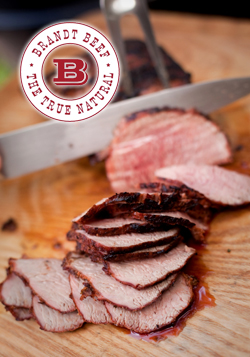 Tri-tip is a tender, lean beef cut that gets its name from its triangular shape. It is sold as a small roast from the bottom sirloin or cut into tri-tip steaks. What makes it special is the full flavor it promises for an affordable price.
If you haven't heard of tri-tip, that's because for a long time, it was primarily a cut marketed in California and is still sometimes called a Santa Maria steak. Other names for the tri-tip are bottom sirloin roast and triangle roast.  A boneless tri-tip roast weighs around 1-1/2 to 2 pounds and is around 2 inches thick. It can also be cut into steaks or cubed for kabobs. Tri-tip meat should be nicely marbled even though it is considered a lean, tender cut. It is especially prized for its rich, beefy flavor.
At Harvest Ranch and Jonathan's, we have USDA Choice Brandt Beef Tri Tip, marinated in four flavors and ready for your grill.  There's Burgundy Pepper, Teriyaki, Asian Barbecue, and Herb and Garlic.
Grilling Tip:
For a fantastic barbecue, place the marinated Tri Tip over direct heat, for 5 to 6 minutes per side.  Then, move to indirect heat for 10 minutes per side.  Check with meat thermometer for desired doneness ~ 130 for Medium Rare, 140 for Medium, 150 for Medium Well.
For any questions about recipes, or grilling tips email Chef Mike.